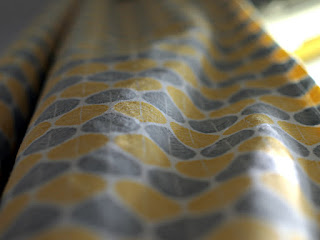 We recently finished up the nursery so The Pilot documented the final product. Now all we need is a baby!
I knew I didn't want a "cutesy" baby nursery. I also didn't want to wait to start on the nursery until we found out the gender so we opted for a neutral gray and yellow theme that we could accessorize once we found out the gender. When we bought the house, my brother and sister-in-law gave us an extra twin bed they had. I found an inexpesive sheet set at Target that was yellow and gray. Once we found out we were having a baby, we decided to leave the twin bed in the room and run with the yellow and gray color scheme.
The Pilot painted the room, and helped my Dad install a ceiling fan. I bought an extra set of the same sheets, determined to make my first sewing project...7-foot long blackout curtains. (The sewing machine was a gift from The Pilot for Christmas. I had to promise to learn to sew and actually use it!). Not sure what I was thinking when I decided to make such large curtains for not just one, but two windows with my minimal sewing experience. Go big or go home? There were calls and emails to both my mom and my mother-in-law, some cursing and a whole lot of tangled thread but the curtains are on the wall and are actually functional!
Again, knowing we wanted something unique that didn't scream nursery, we decided to hit up an antique store to look for some things to decorate the nursery. The antique store proved to be the mother load. We came across some Volkswagon hub caps first and thought they were cool. And then we found the road signs. The Pilot spotted the directional signs and I liked that they were yellow. If I wasn't going to get my nature themed nursery, anything we did decide to go with had to match the curtains that I spent DAYS making.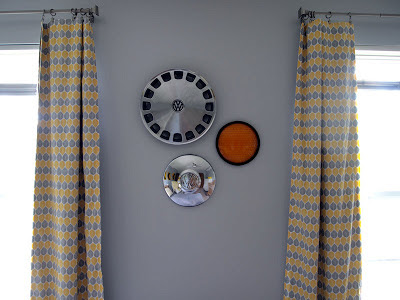 We made the decision if we were going to get the signs then we had to go with the whole car theme completely. When we saw the No Dumping sign, we both laughed at it..... then seriously considered it. It would be pretty darn funny. Plus, it was pretty inexpensive "art" for the size (about 4' x 2.5'). We wandered around the store for a while thinking about it. I think it may have been finding the small Herbie car that made me realize that it would be a pretty cool room for a boy. One that would grow with him. We commented that he could take the No Dumping sign to college to decorate his dorm room. Now, can't you picture that??
As much as I love Disney, I didn't want a Disney themed nursery. But having a small tribute was the perfect touch! Herbie rides again!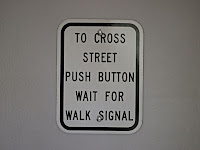 We also found a yellow European license plate and a street crossing sign....which found a home right above the light switches. There's also a cat photo bombing the picture above. Little did he know that he was about to get kicked out of the room. We've been letting the cats sleep on the twin bed but it's time to make the nursery a cat-free room. So sad. They love sleeping on the twin bed, but I certainly don't want to find a cat sleeping in the crib. Maybe when the kiddo is bigger (and not allergic to cats like both his parents), we can let the cats sleep in there if they want.
Once we found the Herbie car, we decided we needed at least one more Volkswagon model to tie the room together. The Pilot found this little guy on eBay.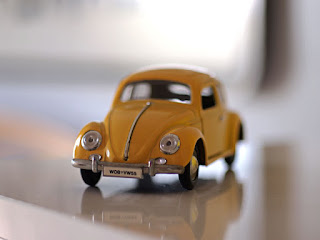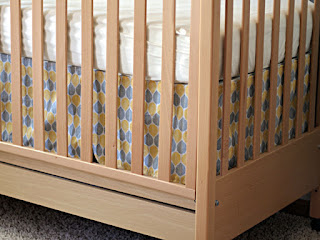 I had some fabric leftover from the curtain so I decided to make a skirt for the crib. When the mattress is in the highest (infant) position, you could see into the storage drawer under the mattress. I knew it wouldn't be seen for long (until we lower the mattress once the baby gets bigger) but since I had the fabric, I figured I'd give it a try. All went well until I started to hot glue the velcro to the mattress frame. I figured it would hold the velcro long enough but would be easy to peel off once we didn't need to skirt anymore. Sounds easy enough until I somehow managed to burn my finger. Badly. Being slightly crafty, I'm not stranger to hot glue burns. But usually you just rub the glue off, it stings a little but then it's no big deal. But for some reason this was a bad burn. Requiring lots of cold water, and eventually the first aid kit for some burn cream because I couldn't seem to get the heat out! The things I'm going through already for this child! ;)
At my shower last weekend, my sister-in-law's mom gave us a GENIUS gift! Long story short, she ended up with a Lion King crib mobile on her hands. Then she found out we were pregnant and hung onto it. Then she heard about the nursery theme and she got crafty! She printed some funny road signs and made little pillows out of them with some ribbon. She gave me both the little pillows and the Lion King mobile, knowing we'd get crafty ourselves and make a custom mobile that matched the nursery. So The Pilot took the existing fabric and little baby Simbas off the original mobile and added the little road signs. Not only was it extremely thoughtful but The Pilot and I both love the final product. There is a 4th pillow that isn't pictured....it has a plane on it as a warning to watch for low flying aircraft. :)
That one in front cracks me up...watch for falling cows??
So that's the room! The closet still needs a little work as we slowly start accumulating more and more baby gear.